Cyberpunk 2077 was planned as an adult game: Sex is supposed to play a major role alongside violence. Our picture gallery shows the best sex pictures and provides a commentary on why Cyberpunk 2077 is just a sexual illusion.
Apart from stupid killer game debates, violence in movies and video games has long been considered to be perfectly acceptable. Over the years, the explicit depiction of the most brutal acts of violence has been continuously refined. From Battlefield to Mortal Kombat, from The Witcher to Agony: severing limbs, spreading intestines across the floor, painting the walls with brain matter – that's perfectly okay and accepted. Here and there an author presents himself as shocked, but that only lasts for a brief moment or the violence is evaluated as authentic in the context of a great gaming experience.
I certainly don't have a problem with explicit depictions of violence. However, I'm surprised that sex in movies and games doesn't undergo an equally explicit evolution. Sure, female breasts always work somehow, especially in movies. But male genitalia? Or even explicit sexual acts? The country censors would have banned the respective work faster than you can even think about the word "enlightenment". Because sex is dangerous and turns young people into… well, what actually?
After the somewhat successful sex scenes in The Witcher 3, it was a nice change to see Cyberpunk 2077, another adult game that doesn't shy away from explicit sexuality. Diversity was openly advertised – I just remember the "mix it up" poster from a gameplay demo, showing a woman with a clearly emerging male thong. At the time, CD Projekt still had its stellar reputation, and I expected the self-proclaimed developer rebels to up the ante after Geralt's sexual adventures.
Cyberpunk 2077 is a letdown when measured against my personal expectations, which were fed by hype marketing and outrageous PR from relevant gaming magazines. But what about the sex? Is Cyberpunk 2077 at least a hot game in terms of eroticism?
Below you will find 146 annotated – more or less erotic – screenshots, see the best sex ads, sexy NPCs and the best pictures from the game's sex scenes.
Sex Sells: Advertisements in Cyberpunk 2077
28 Images
It is telling that the most consistent depiction of sexuality in the entire game occurs in the ubiquitous neon advertisement. It is also indicative that only one commercial in Night City features semi-convincing moaning.
From big boobs advertising dog food to the rare depiction of male homosexuality, some digital billboards are thoroughly erotic, some are absolutely "what the fuck" moments, and still others are completely bonkers. Night City's billboards represent the cyberpunk theme at its best.
Supporter Content: 14 more annotated images
Catwalk Street: Sexy NPCs in Night City?
16 Images
Let's face it: Artificial Intelligence cannot be found on the streets of Night City – which is equally ironic and sad. Masses of NPCs (if your PC can handle it) sprawl along the sidewalks, moving as if they carry broken Cyberware in their locomotor systems.
Once you have come to terms with the lack of halfway realistic behavior and turned your own expectations down to zero, you will find time to take a closer look at the fantastically designed street mannequins. A few of them are even quite provocative.
V – from sexy outfits to full nude
11 Images
The clothing options for V can cause a real headache: Either she looks like she's robbed a cheap fashion market or like she's on her way to a gangbang party. The same applies to the male V, who may honor Christopher Street Day with his hot pants and rocker jacket, but can barely be taken seriously in the Afterlife.
If you forgo a few armor stats and go straight for looks, with a little effort and time you can pick up some awesome clothes that will withstand even the toughest Cyberpsycho. In addition, Cyberpunk 2077 has no shortage of clothes – including some sexy ones. Oh – you can see V naked only and exclusively in the inventory. While the female V can at least be viewed topless in photo mode, you will get to see wang and pussy only in the inventory. Yes, the customizable penis sizes were pure marketing clickbait.
Compromise: Just build a V with cock and knockers.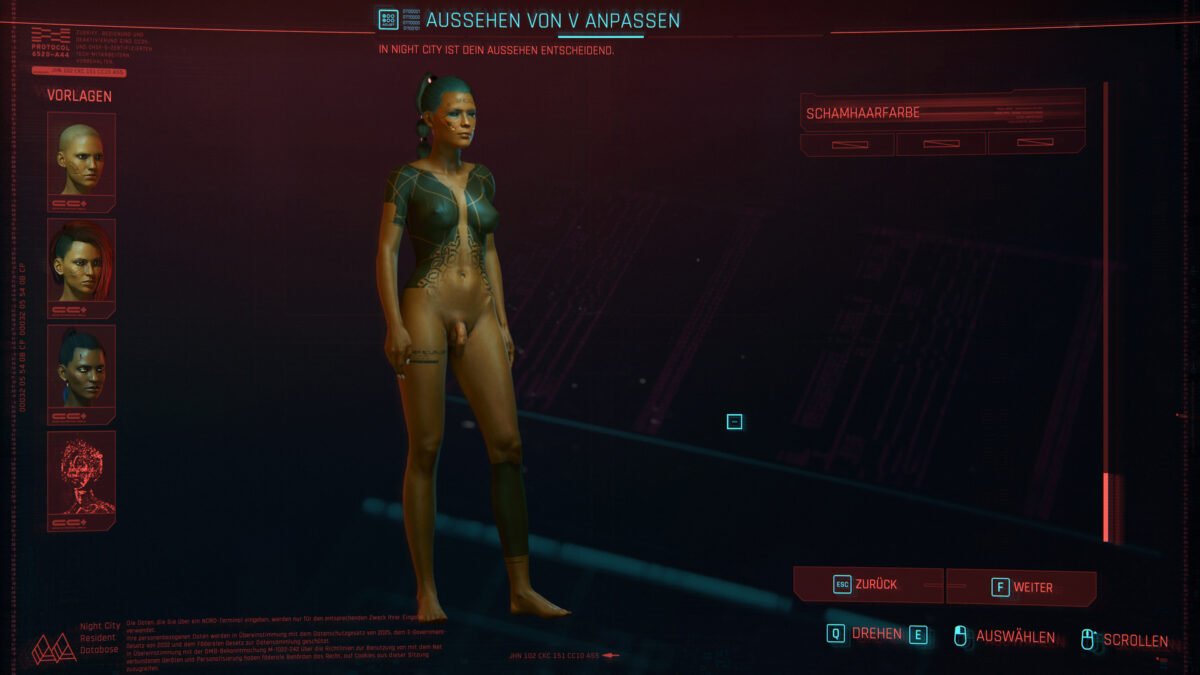 Female V
Male V
Romances: Sex as a Gaming Achievement
36 Images
One of the elements that disappointed me the most about Cyberpunk 2077 are the romances. Up until the sex, everything is fine, and the romances sometimes even have their moments: for example, the dive with Judy or the tank theft with Panam. But all romances have one thing in common: After the shagging, there's no more sweet-talking. The basement kid achievement, the gamer trophy, is in the bag: Yes, I slept with Judy, banged Panam, let River bone me, or crossed swords with Kerry.
And then? Nothing. The story continues with Panam, but there is no more intimacy. No romance, no sexual tension, no second, third, fourth time. Developing the relationship? Not a chance. The Fuck Quest is done. Calling Judy? Just the same audio loops we've already heard ten times by now. When I visit her in her apartment? She stands by the window and repeats the same two or three sentences.
Well, I guess I can scratch romance and sex off the checklist. What an achievement! I thought we'd be a bit more advanced by 2020. Even Witcher 3 was a lot better at that, where the personal relationships were continued even after the fucking. What happened to you, CD Projekt Red?
If the sex was at least sexy, erotic, hot – but here the developers have failed. A sequence of first-person jump cuts, here a breast flashes into the lens (in close-up with poorly textured nipples), on other occasions I am lucky to find a naked butt (with angular curves if you look too closely). Hands and heads fade in at random, doing something that could be sex if you use your imagination. To make matters worse, Panam is filtered through an X-ray vision. In addition, there are unmotivated and only very restrained moans – that sex has an important audiovisual aspect is obviously new territory.
I'll still present you the best pictures of the cyberpunk fucks now. And yes, that's really all there is.
Judy
Judy is only attracted to women – which is perfectly fine. The sex scene with her, on the other hand, is underwhelming: completely chopped up. You often don't really know what you're actually watching in the quickly switching short clips – and the background audio is not very convincing.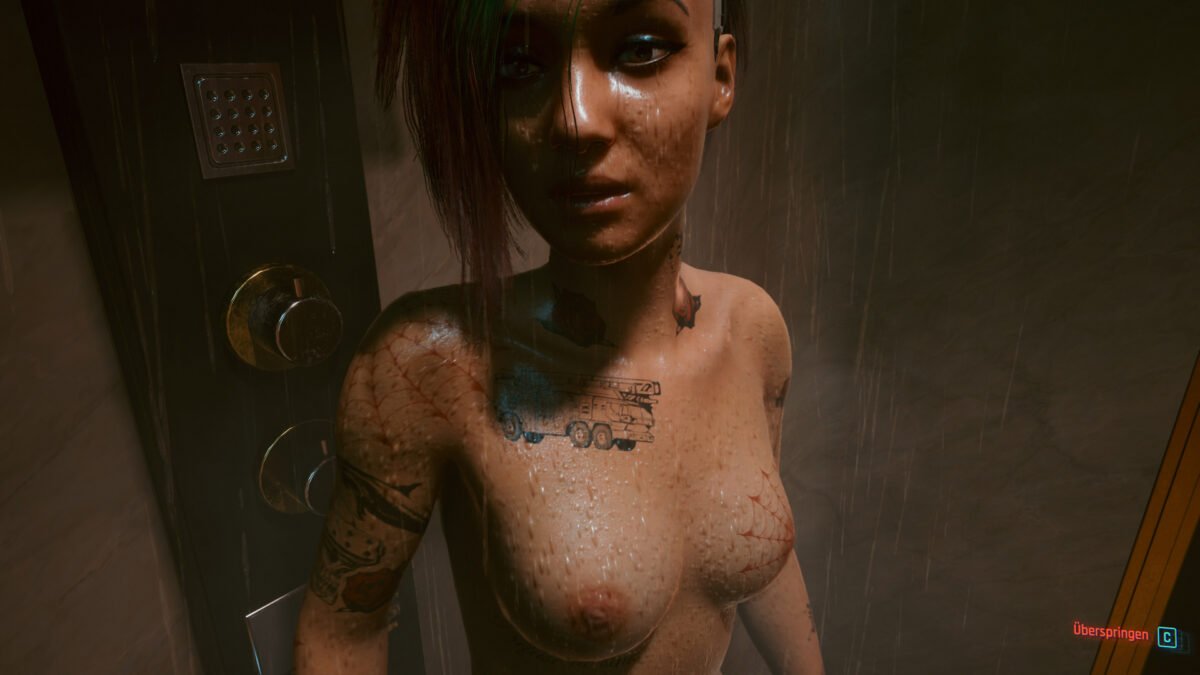 Kerry
Kerry's romance is interesting. So is sex with him – or at least the foreplay is. The rest is like most of the fucks in the game: Kind of boring. Again, the sex is almost silent.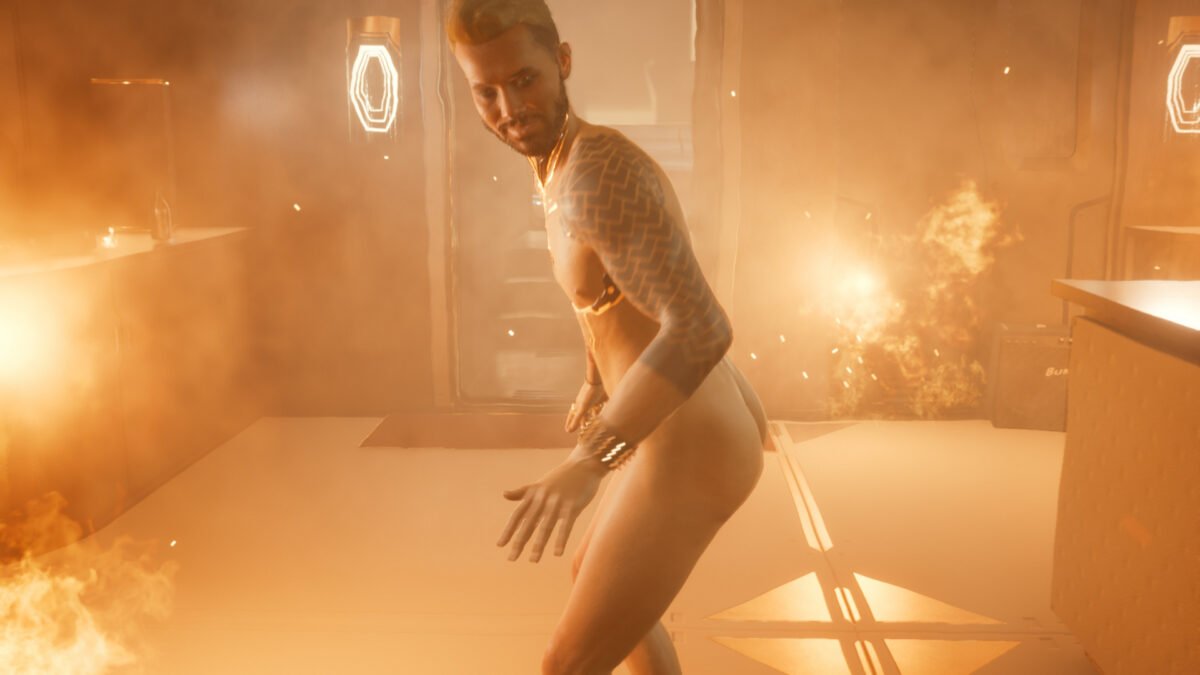 Panam
Panam's story is arguably the most complete, especially when you see the ending with her when playing as the male V in Cyberpunk 2077. She has no interest in women, but she does take a man – albeit in the uncomfortable confines of a tank, linked via tech and all through a green X-ray filter. Many of the fast-cut scenes can only be partially understood after a second or third viewing, and the dubbing is also weak – although it starts really strong in the pre-sex dialogue!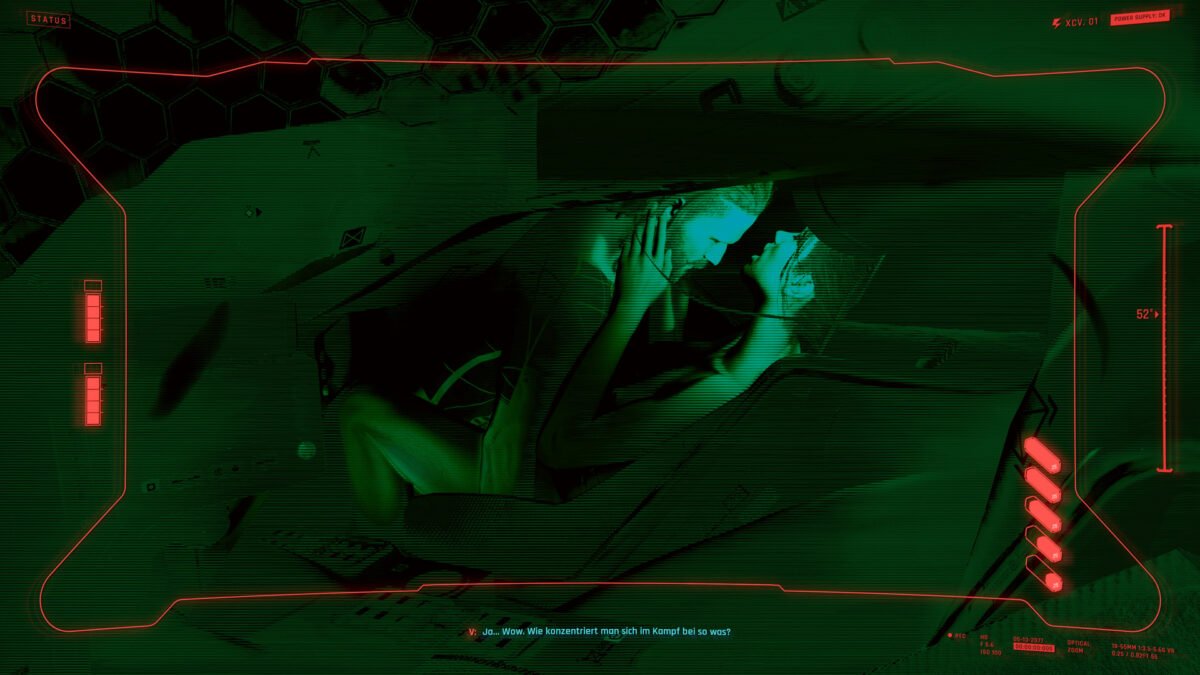 River
Sex with River at least has some good bits, like him and V not wanting to wake up his sister's kids. The mirror let me hope for a short time to get something for the inner voyeur here. Wrong: The River act turns out to be as choppy and boring as the other sex stories. You actually only see River's face the whole time.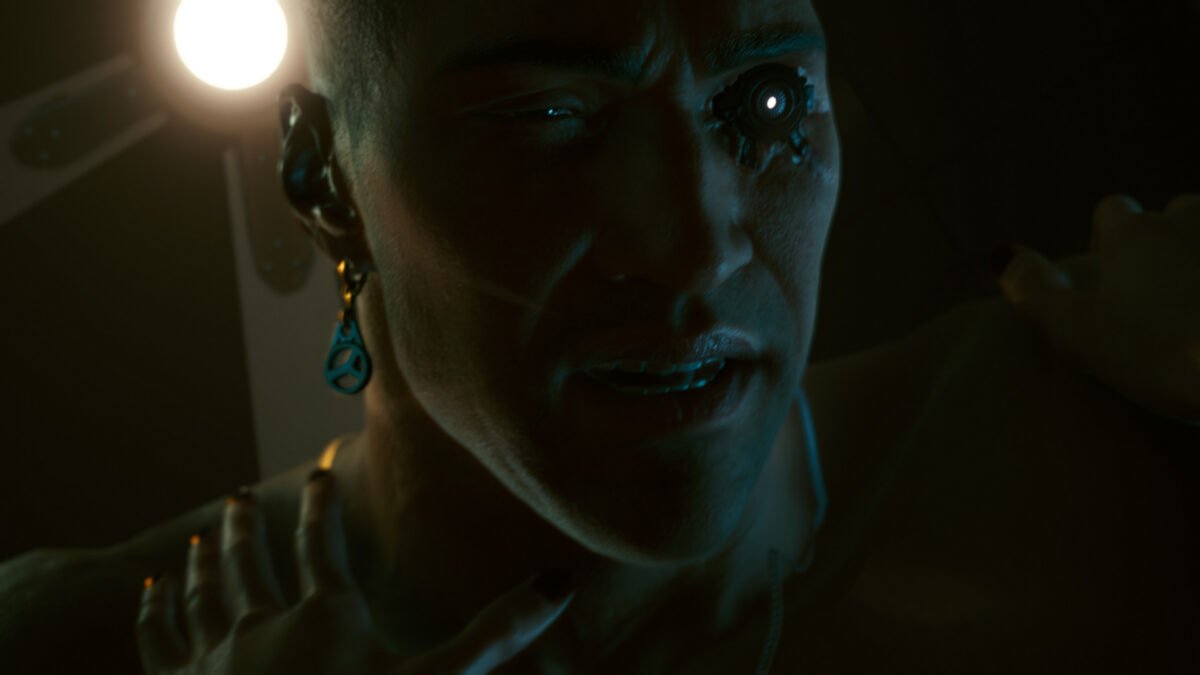 Stout, Cunningham & Co. – About Fetishists and Taped Nipples
22 Images
Sex with Meredith Stout – that surprised me in a positive way. Despite her criminally limited amount of appearances, Stout is one of the strongest characters in Cyberpunk 2077. The fact that she invites me to a hot date was a successful twist. Taped nipples and a disjointed presentation, however, do little to raise the heartbeat during the sex. At least the visual language is better than in most other sex scenes in the game.
Now I'll show you the best pictures from the short liaison with Meredith as well as some other interesting and – depending on the point of view – sexy characters.
Meredith Stout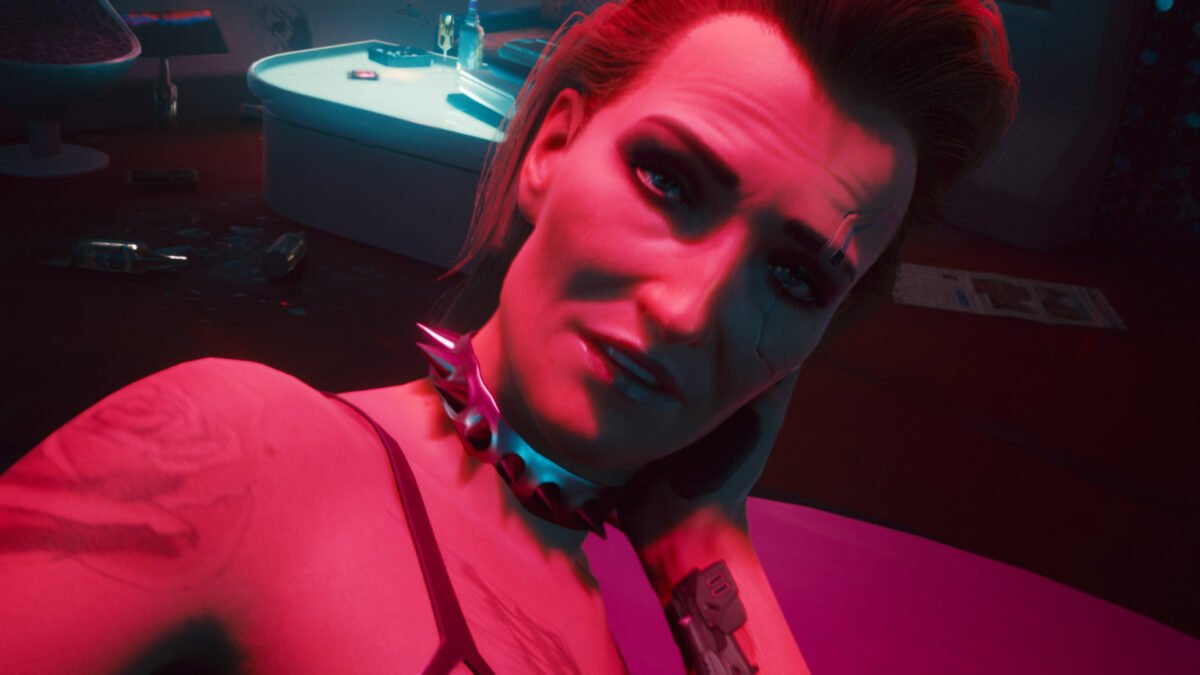 Alt Cunningham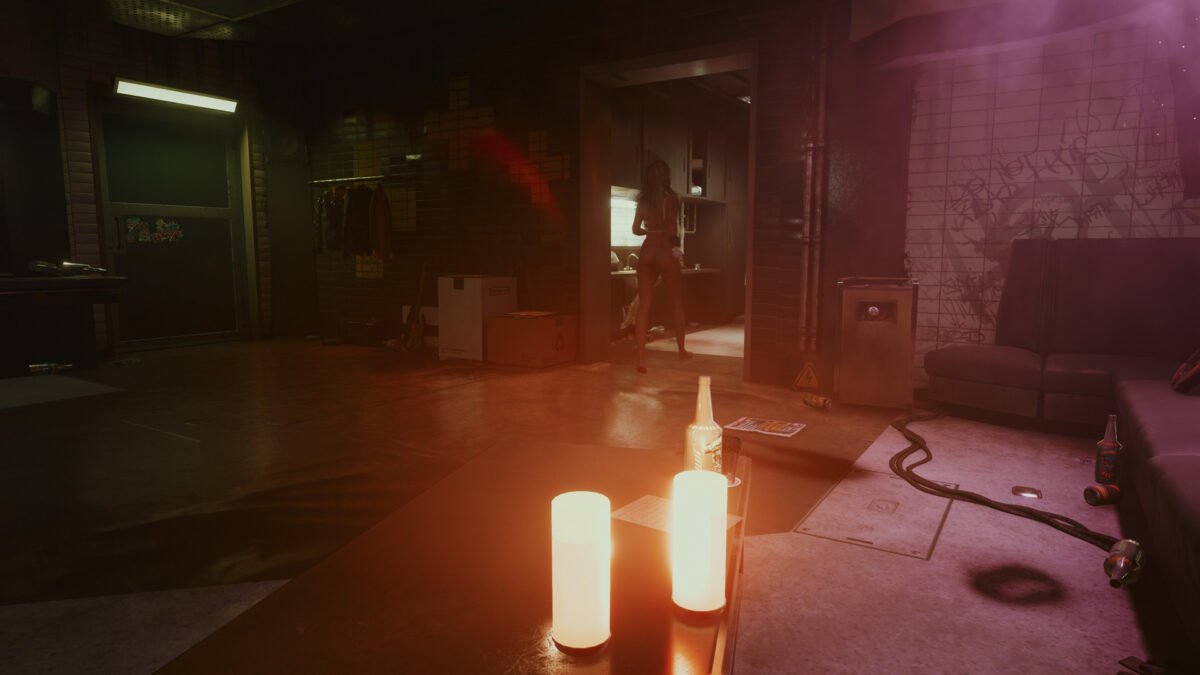 Skye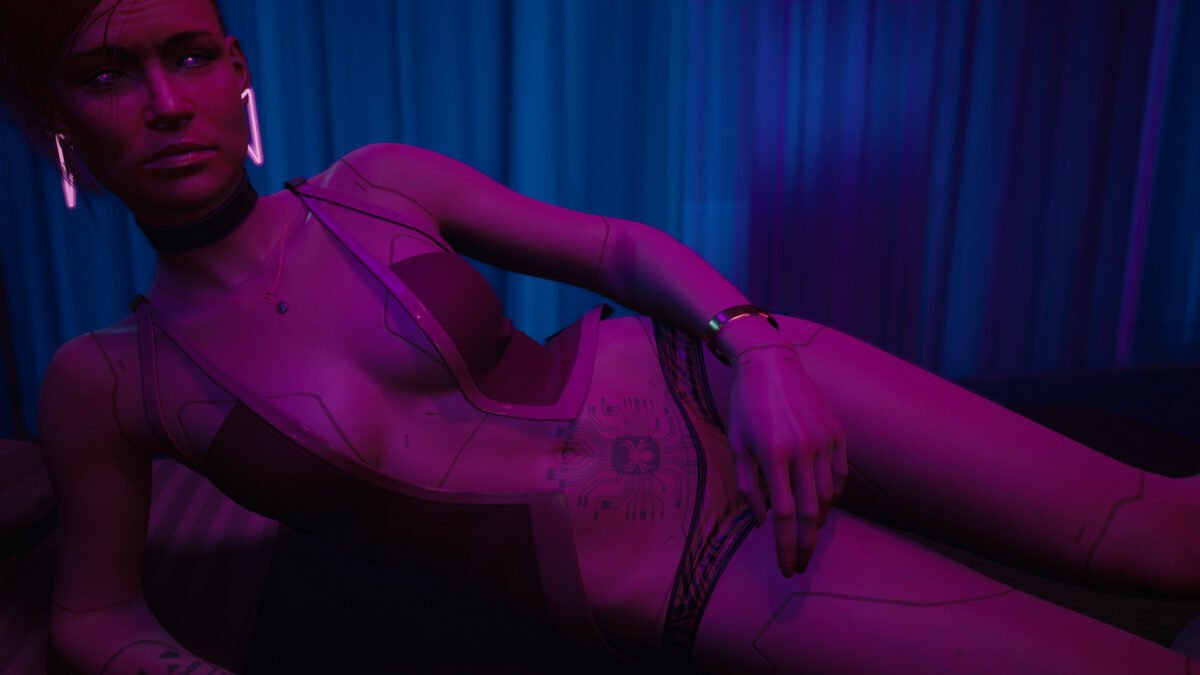 Other, more or less handsome characters in Cyberpunk 2077
Jig-Jig Street, JoyToys, Sex Shops & Other Stuff
33 Images
CD Projekt Red shows bravery when it comes to things that are not moving and aren't attached to a person: Dildos in all shapes and colors, all the way up to oversized, can be found in abundance – especially in Night City's den of sin, Jig-Jig Street. This is also where you'll find the two of four prostitutes that you can interact with within Night City – the so-called JoyToys. There is a female and a male version of each of them. For 100 Eddies they get into a grubby room with V and fuck – which is mildly arousing at best.
The other two JoyToys are unlocked very late into the game by completing the side mission "Off The Leash" in the Kerry Storyline. Once you've finished the mission, you wait for 24 hours until the elevator at the Dark Matter Station becomes accessible. It will lead you to a club, where you can meet one female and one male premium JoyToy for 3,000 Eddies each.
The hologram's slogans in front of the sex store on Jig-Jig Street are quite entertaining, by the way:
I show you the JoyToys, sex stores and various sexual curiosities in this final collection of sex shots.
Female JoyToy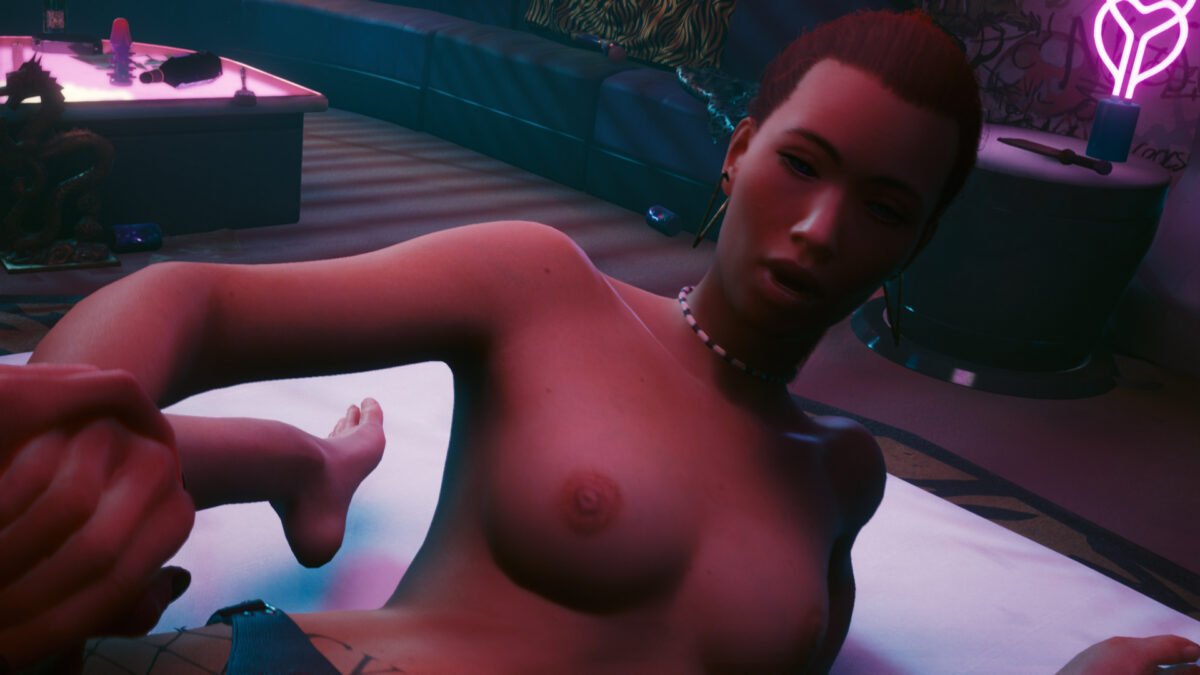 Male JoyToy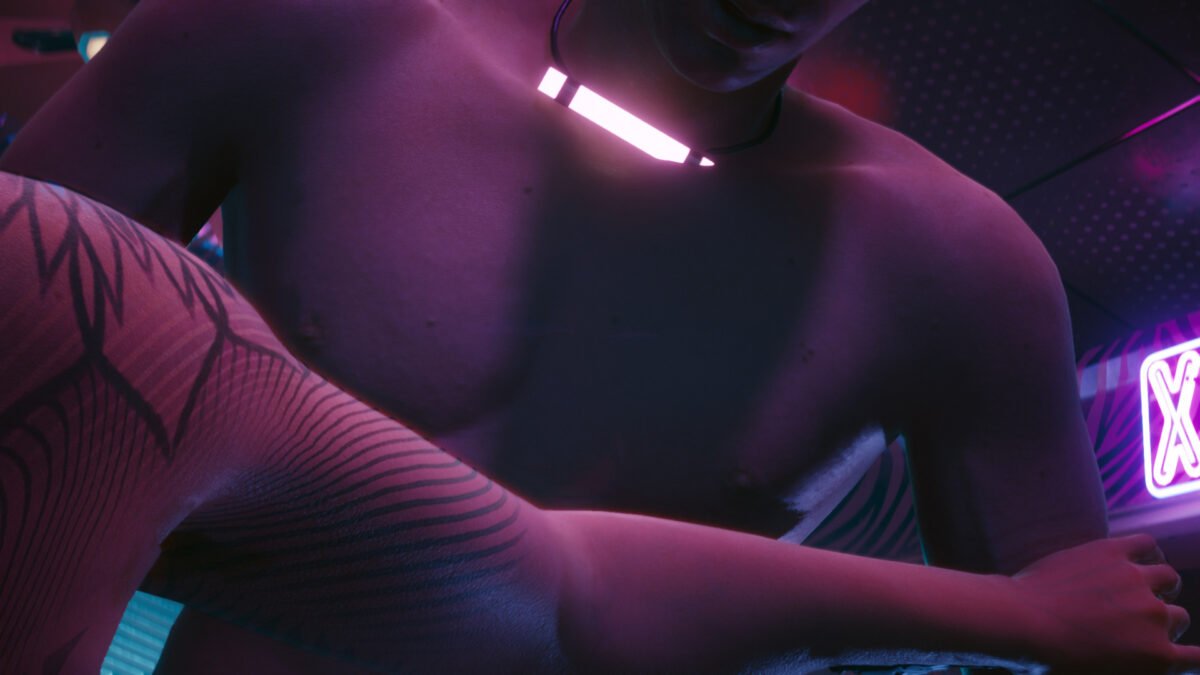 Jig-Jig Street & Sex Stores
Other Stuff
Ben's Verdict: Sex in Cyberpunk 2077 – Coitus Interruptus in Bling-Bling City
Night City is a terrific facade for a game, a great open-world with an incredible amount of – watch out: my dirty word of the century! – potential. Like most games with potential, Cyberpunk 2077 can't fully exploit it. It has become a sample of 20 years of computer games, with many unfinished elements, a pointless Looter-Shooter loot system, poor clothing mechanics, missing features, the complete absence of any AI, some plotholes, and an uneven emphasis on different decision paths.

If we consider the information that Jason Schreier from Bloomberg has dug up over the last few months about the development of Cyberpunk 2077, then we find a decent chaos, full of shortcomings in vision and management at CD Projekt Red. All of this can be seen in the game as well. The topic of sex was a welcome clickbait hook for the PR department and its extended arm, the gaming press: "You can even customize your cock!"

In advertising and world design (minus the NPCs), sex and cyberpunk are so compellingly present that it really makes you crave more. When it comes to sex, however, I feel like I've been teased first and dumped immediately in the next second. 80s porn had more eroticism! It's a shame because as all the pictures above show, this world has a lot of untapped potential – even for redefining sexuality in games. But in the end, all we have are big promises and an incredibly lame implementation.

However, I think it's much worse that even in 2020/21, sex is still nothing more than a tickable achievement in the game. The pixel banging seems to be the only highlight of a so-called romance for the developers. Instead of cleverly weaving a few good fucks into an exciting, intimate relationship, CD Projekt simply follows an archaic scheme X: The right dialogues and a few quests for the treasured NPC is enough to reach the climax.

After that, only boring emptiness remains.

Computer games want to be art. But to do so, they have to move away from simply clicking trigger points. They must also challenge the player intellectually. They have to break new ground. Furthermore, they have to dare to do something – not to provoke, but to grow up.

Some developers have managed to grow up, at least in terms of content. The Last of Us and The Last of Us Part II are milestones. Part 2 in particular forces the player to learn something meaningful about himself. This hurts in places but results in a memorable game. By the way, I consider the sex scene in The Last of Us 2 to be sexier (though far from perfect), because the context and visual realization simply fit together much better.

Sure, a linear game can't be compared to an open-world game as a whole, but the concept of stories, relationships, and sex is not dependent on linear or open environments. You can't subtract credibility just because you make an open world.

Cyberpunk 2077 can be enjoyed easily if I don't care about most of the mechanics, have a high frustration resistance against bugs and glitches, simply follow the story, and don't care about ambition and reality. But in the end, it's just an average game that doesn't do much different than most other games that have come before it, and that's also why I will quickly forget about it. I want to forget the sex in Cyberpunk 2077 as soon as possible in particular.
All Cyberpunk 2077 Guides & Articles
Translation by: Dennis Anjuschin