This Cyberpunk 2077 Cyberware Guide will show you all Cyberware you can buy and how it benefits you. Moreover, we tell you which Ripperdoc offers which Cyberware and what you have to watch out for when dealing with the Chrome Doctor. Cyberware Mods are also covered in this guide.
In this Cyberpunk 2077 Guide, you'll learn the following:
where to find which Ripperdocs
which Cyberware is available, what it costs and which requirements you have to fulfill
What Cyberware-Mods are, and which ones are available
Cyberware grants you superhuman abilities in Cyberpunk 2077. You can jump higher, inflict more damage, or hack your way through Night City (History of the city) and its inhabitants. This guide will teach you how Cyberware works, which ones exist, where you can get them, and much more.
Cyberpunk 2077 Ripperdocs: All Information
If you wish to see the Ripperdocs in the game, open the map and zoom in until you see mission icons as well as the white store icons. Use the "Service Point" filter in the upper left corner of the map. Ripperdocs are represented by a medical forceps icon.
There are a total of 15 Ripperdocs in Night City, who will give you the chance to polish up your Cyberware or replace it entirely. Our map shows you their exact locations and the district in which they reside.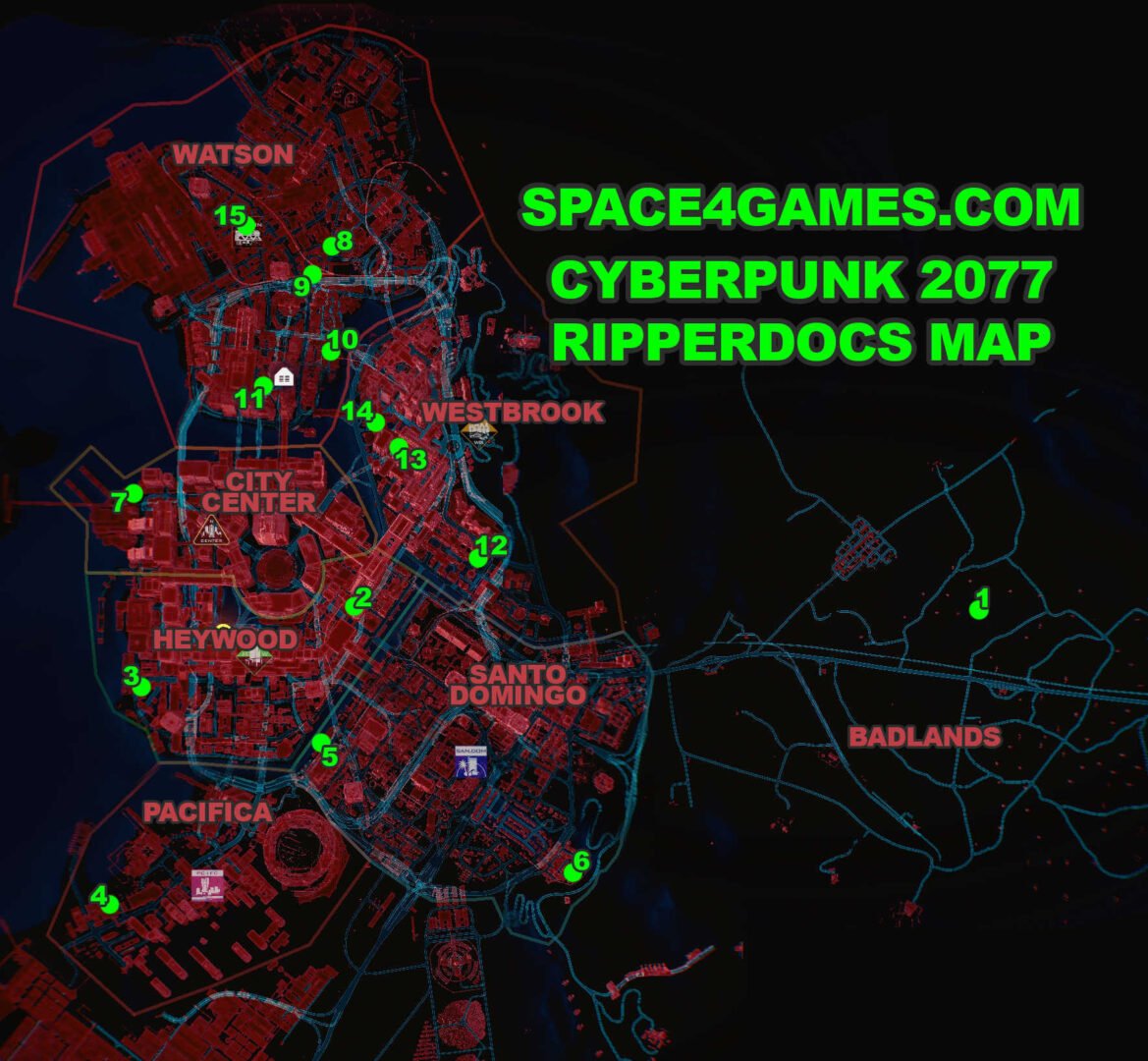 The following chart contains all information about the various Ripperdocs and is sorted in alphabetical order by Area / Location. Ripperdocs without a name are simply called "Ripperdoc" by the game.
All Ripperdocs in Night City
Nr.
Area / Location
Name
Nearest Fast Travel Point
Remarks
1
Badlands, Rocky Ridge
–
Mobile Camp
Inside a trailer in a small nomadic village outside Night City.
2
–
–
–
The Ripperdoc that was supposed to be in Heywood is a Netrunner instead.
3
Heywood, Wellsprings
Doc Ryder
Pumping Station
4
Pacifica, Coastview
–
West Wind Apartments
5
Santo Domingo, Arroyo
–
6
Santo Domingo, Rancho Coronado
Octavios Clinic
Rancho Coronado East
7
City Center, Downtown
–
Skyline & Republic
8
Watson, Kabuki
Buck's Clinic
Kabuki Market
Owner: Charles Bucks.
If you read the incriminating email on the laptop in the basement during the side mission "Full Disclosure" or during the mission "Last Login" – both take place in the same building – you can force Charles to give you a permanent discount.
9
Watson, Kabuki
Dr. Chrome
Kabuki Market
Dr. Chrome doesn't like chrome.
10
Watson, Kabuki
Instant Implants
Creek Loop
The clinic is located about halfway between the Fast Travel Points Creek Loop in the north and Allen Street South in the south, to the right of the road when you look at the map. There is a footbridge opposite a hotel – the illuminated signs with "Doc" written on them show you the pathway to the Ripperdoc.
11
Watson, Little China
Viktor's Clinic
Bradbury & Buran
Owner: Viktor Vektor
Basement clinic in a side street behind Misty's Esoteric Store.
Available as soon as you have paid off $21,000 in debt to Viktor (Side Mission "Paid In Full").
12
Westbrook, Charter Hill
Kraviz' Clinic
Luxury Apartments
Owner: Nina Kraviz
13
Westbrook, Japantown
Fingers M.D.
Cherry Blossom Street
The store is located in the rearmost corner of Jig-Jig Street, to the left of the entrance.
Attention: Fingers can "get lost" depending on how you decide/act in the main mission "Space In Between". He has some good Cyberware, so you better not let that happen.
14
Westbrook, Japantown
–
Cherry Blossom Street
15
Weston, Northside
Doc Ryder, Cassius
Pershing Street
Owner: Cassius Ryder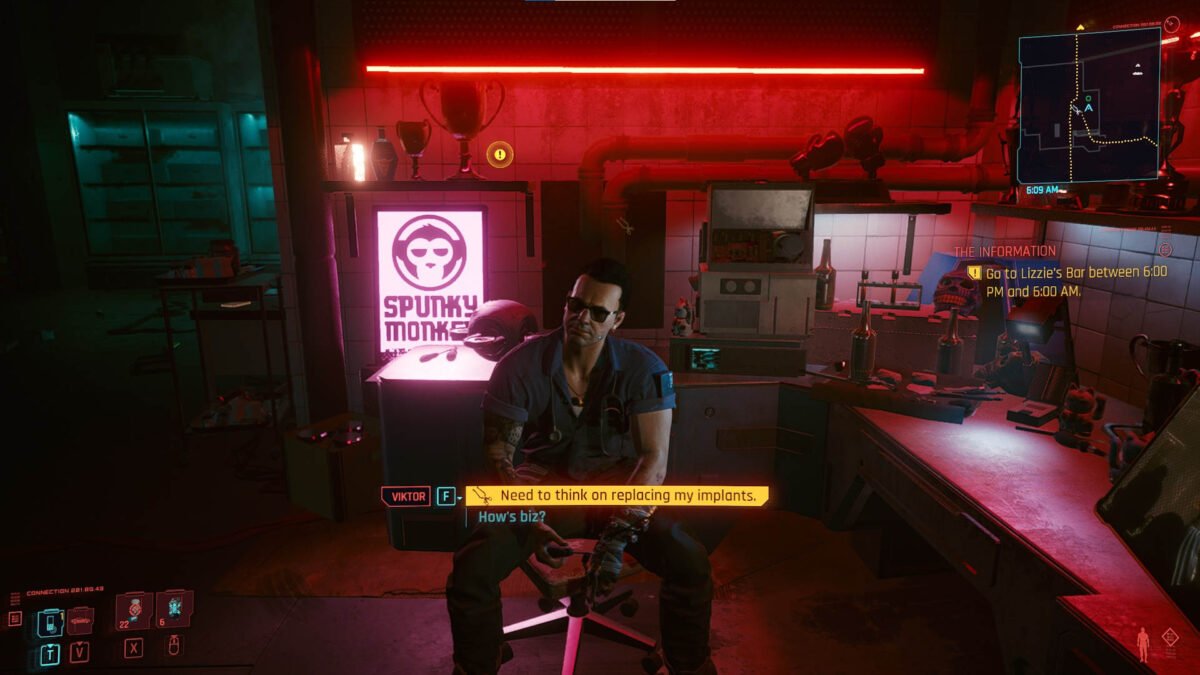 Cyberware: Tips, Effects, Requirements & Prices
Which Cyberware do I need for which Playstyle?
Not all Cyberware is equally suitable for V. Which one you need depends on your playing style. This in turn determines which Skills you need. We explain all Attributes and Perks in our Cyberpunk 2077 Skill Guide, giving you a general idea of your possibilities.
The following list shows which Cyberware is especially good for a particular playing style. Of course, you can mix the four categories – for example, if you play ranged combat + stealth or ranged combat + melee combat + hacking. Make sure that you choose the Cyberware that is appropriate for your desired gameplay focus. If you want to mix, for example, ranged combat, melee combat, and hacking, it's advisable to use more than just the melee category: strong quickhacks require a lot of RAM, so it's better to use a Cyberdeck optimized for hacking. More detailed information on the possibilities and functions of individual Cyberware awaits you below.
Suitable Cyberware for different Playstyles
Playstyle
Name
For every Style
– Frontal Cortex: Heal-On-Kill, Visual Cortex Support
– Ocular System: Kiroshi Optics MK. 3
– Skeleton: Titanium Bones
– Nervous System: Neofiber, Reflex Tuner
– Immune System: Cataresist, Pain Editor
– Integumentary System: Subdermal Armor
Melee
– Operating System: Legendary Berserk
– Frontal Cortex: Heal-On-Kill, Visual Cortex Support
– Skeleton: Endoskeleton, Microrotors, Microvibration Generator
– Arms: Gorilla Arms, Mantis Blades, Monowire
– Legs: Reinforced Tendons
– Circulatory System: Bioconductor, Biomonitor, Second Heart
Ranged Combat
– Operating System: legendary Sandevistan
– Frontal Cortex: Limbic System Enhancement, Visual Cortex Support
– Skeleton: Bionic Joints
– Arms: Projectile Launch System
– Hands: Ballistic Coprocessor, Smart Link
– Legs: Fortified Ankles
– Nervous System: Kerenzikov, Synaptic Signal Optimizer
– Circulatory System: Feedback Circuit
Hacking
– Cyberdeck: legendary
– Frontal Cortex: Camillo RAM Manager, Ex-Disk, Memory Boost
– Circulatory System: Tyrosine Injector

Stealth
– Cyberdeck: Arasaka MK. 4
– Legs: Lynx Paws
– Nervous System: Synaptic Accelerator

Cyberpunk 2077 Cyberware Overview
The following overviews (open by clicking or tapping on the blue bar) show you the available Cyberware at the Ripperdocs in Night City. Of course, you can find Cyberware as loot (For example from dead enemies). Since Cyberware is a black hole for your bank account – especially Cyberware of higher Rarity levels – you should take a look at our Cyberpunk 2077 Money Earning Guide. You'll find tips on how to stabilize your financial situation.
By the way: You can fill up all your Cyberware slots with Cyberware without any worries. There is no Cyberpsychosis (see Cyberpunk 2077 Cyberpsychos Guide) or other negative effects for V.
Crafting Cyberware
Skilled mercenaries who have invested a few Attribute Points in the Attribute "Technical Ability" and regularly craft items themselves, also boost their Skill Progression. The Skill Progression Reward Level 13 unlocks Crafting Specs for Cyberware. You can build in your crafted Cyberware by choosing it in the inventory items list at your trusted Ripperdoc. You can read more about Crafting in our Attributes and Perks Guide. Crafting Specs for Cyberware mods can also be found in the Ripperdocs sales inventory from time to time. Click on "Trade" in the sales overview of "Cyberware" (at the top).
Table Legend and Remarks
Remarks regarding the tables: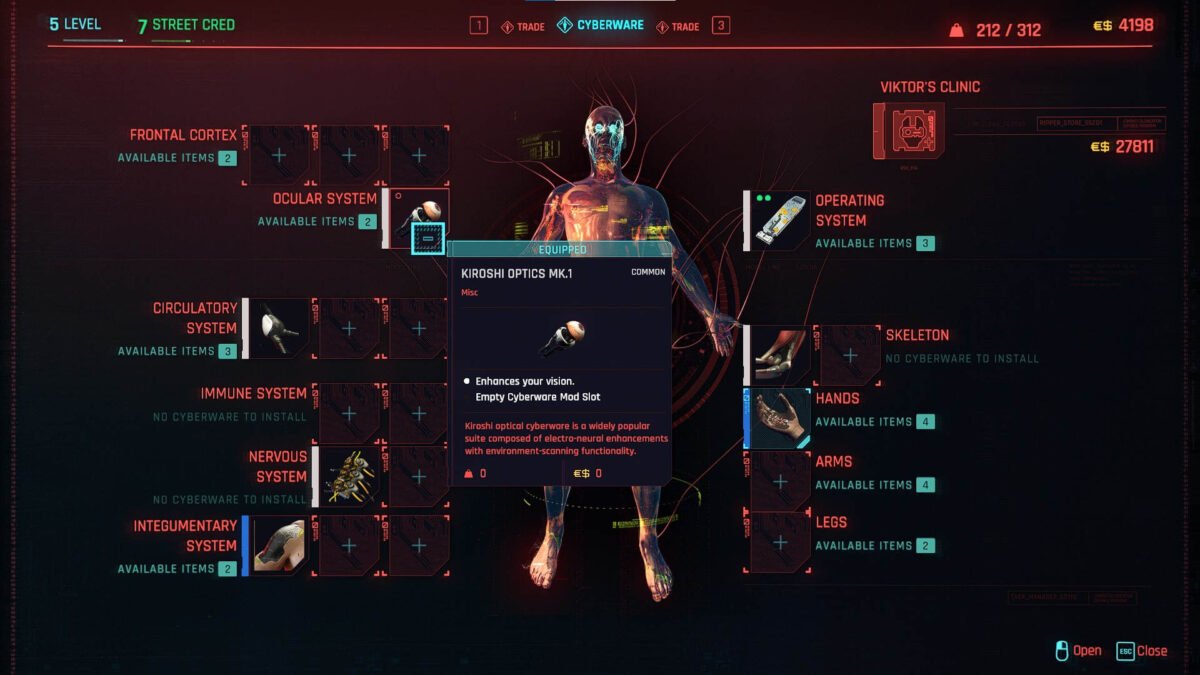 Cyberdecks
Cyberdecks are probably the most important Cyberware for Netrunner, i.e. characters designed for Hacking. They come with a number of pre-installed quickhacks that can be used to manipulate or damage gadgets and enemies. The basic RAM is also determined by the Cyberdeck. You can increase it via Attributes and Hacking Perks. In addition, the Cyberdeck determines the Buffer size for the Breach Protocol. Read all details about the Breach protocol and quickhacks in our Cyberpunk 2077 Hacking Guide.
Operating System
Operating Systems are specialized Cyberdecks with no additional buffers or RAM, making them useful for characters who aren't really into hacking. They are divided into two groups: Berserk and Sandevistan systems. The respective features have to be activated by pressing a button and have a duration as well as a cooldown.
Berserk is very offensive, as the name suggests. Depending on the Cyberware, offensive and defensive traits are strengthened – additionally, a Superhero Landing emitting shockwave becomes possible.
Sandevistan manipulates time and gives V the opportunity to aim in peace, or to take a breath in hairy situations.
Frontal Cortex
Cyberware in the Frontal Cortex requires the Attributes Intelligence, Reflexes, or Technical Ability. Apart from Damage and Recovery bonuses, the focus is on RAM.
Ocular System
Zoom in, or browse the NCPD database for scanned criminals: Kiroshi holds the monopoly on optical implants. In the main mission "The Ripperdoc", V receives the Kiroshi Optics Mk.1, which you pay off in the side mission "Paid in Full".
Skeleton
The Cyberware available for the skeleton is mostly geared towards Body. However, some of the Skeleton Cyberware is made for Reflexes as well. Carrying Capacity, Damage, Stamina, and Health are the focus of these chrome pieces.
Arms
Those who would like to give V a different touch, are well served here. Ranged fighters and firework lovers can implement a Projectile Launch System. Gorilla Arms make you the king of the urban jungle – at least when it comes to brawling with pimped fists. Mantis Blades are stylish and deadly: no one wants to get up close and personal with a Mantis Blade Cyberpsycho (Guide), so make sure you're the one who shaves the bad guys with the Blades. Or did you always dream of becoming a Dominatrix? Rip n' tear through enemies with the Monowire!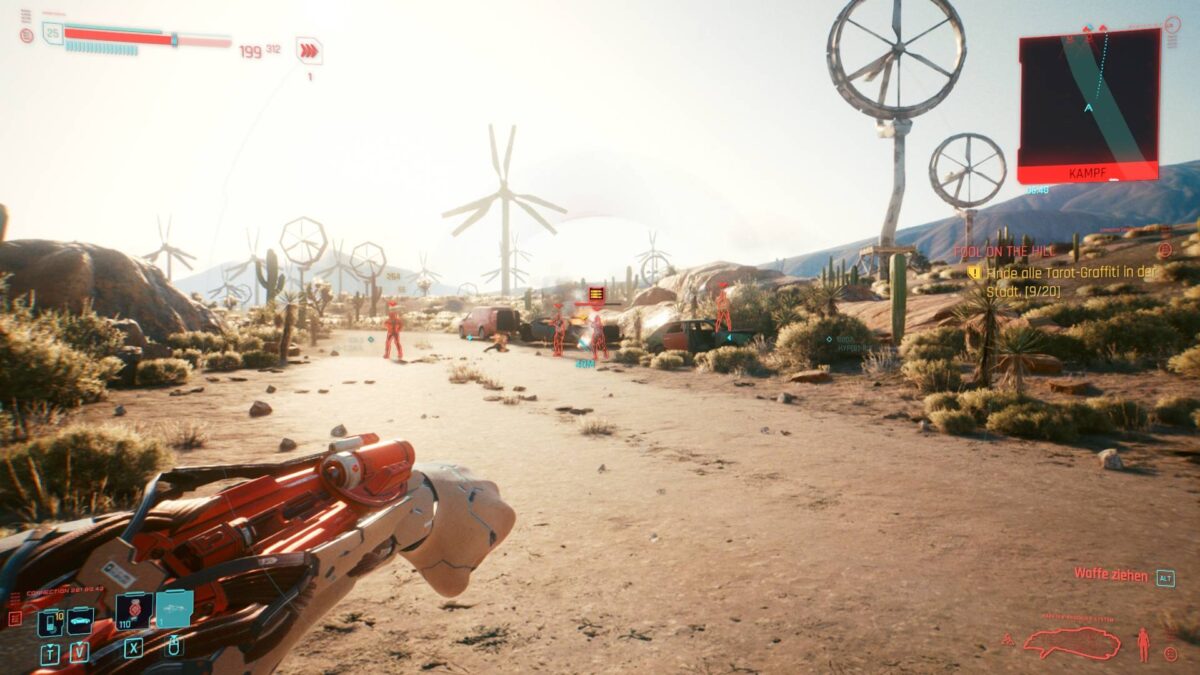 Tip: Get Legendary Mantis Blades & Legendary Monowire for free
Hands
Smart Weapons are great because their projectiles search for their victims via automatic targeting. You need a Smart Link implanted into your hands to use them. But there's also appropriate Cyberware for regular firearms here. V receives a rare Ballistic Coprocessor implant in the main mission "The Ripperdoc", which you pay for in the side mission "Paid in Full".
Legs
Sneaking? Jumping? Floating? Well, check out what your Cyber Legs are capable of: The Double Jump will help you to get out of range of strong enemies, or to infiltrate an exterior area without having to walk around a lot.
Nervous System
The Nervous System operates on Reflexes as the basis. Time Dilation and Dodging features are on the Cyberware Card today.
Circulatory System
The Body and Technical Ability Attributes allow you to upgrade the Circulatory System significantly. Health Recovery is a big advantage of Ciculatory System Cyberware. By the way, are you interested in instant resurrection?
Immune System
Are you cool enough for an enhanced Immune System? If so, certain Cyberware could make you feel right at home in conditions that would otherwise be hostile to life.
Integumentary System
V needs more protection – and perhaps he'll find something suitable for all kinds of dangerous situations in this section.
Cyberware Mods: Tips, Effects, Requirements & Prices
Cyberpunk 2077 Cyberware Mods Overview
You can install additional Mods into some Cyberware parts. To do this, click on the corresponding Cyberware in your Cyberware overview. A menu will pop up listing the mod slots, and available mods in your inventory for that slot. To see which Cyberware Mods a Ripperdoc offers for sale, open the sales menu and click on "Trade" instead of "Cyberware" in the top line.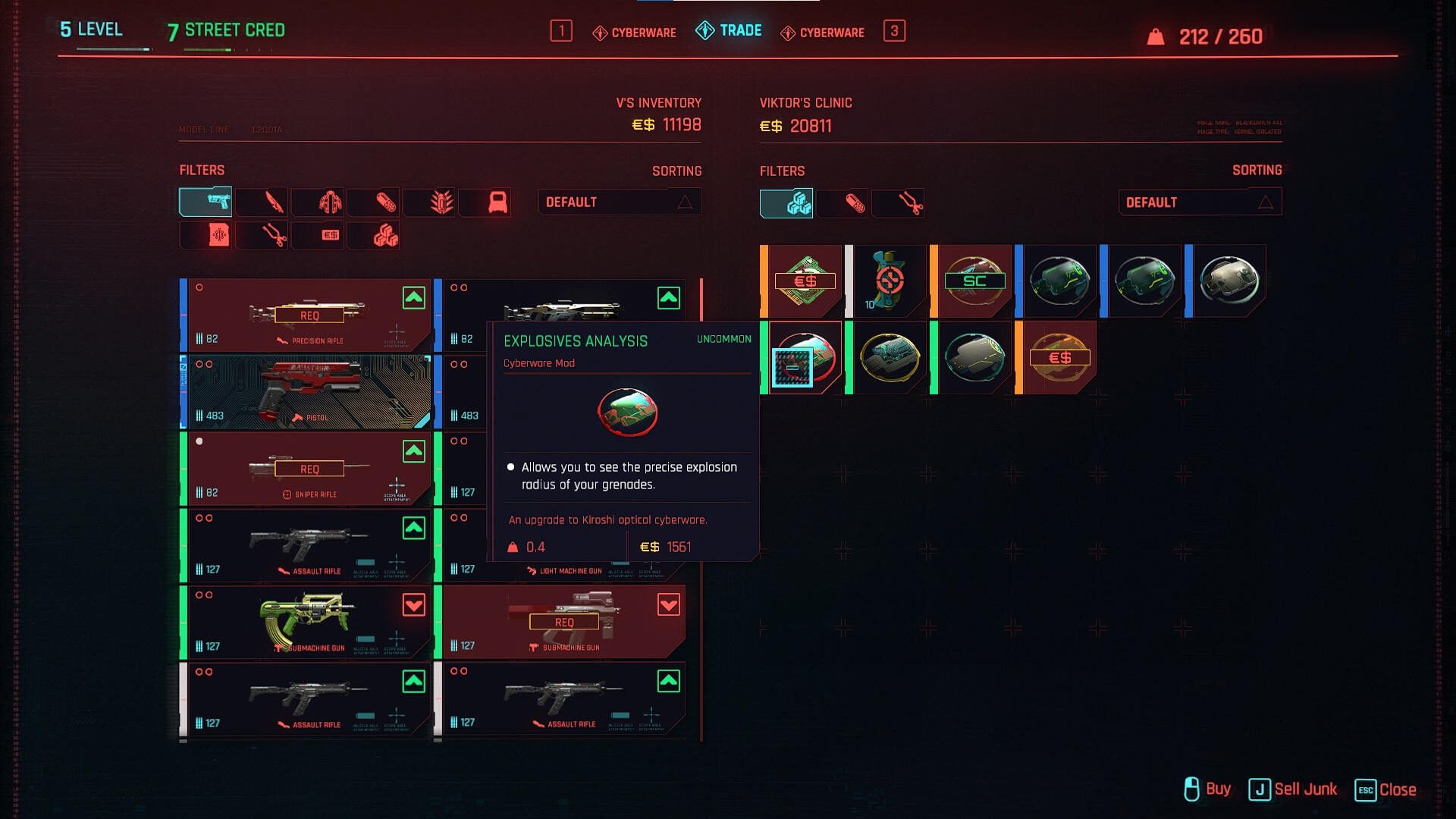 Cyberware Mods optimize your Cyberware for specific types of Damage, such as Shock or Physical damage. Alternatively, Cyberware mods add useful effects, such as a chance to stun or dismember enemies. Another possible function is the ability to tag enemies that have detected you. Mods for specialization and refinement are available for Operating Systems that contain Sandevistan or Berserk.
Berserk Mods
Gorilla Arm Mods
Kiroshi Optics Mods
Mantis Blades Mods
Monowire Mods
Projectile Launch System Mods
Sandevistan Mods
Universal Cyberware Mods
Translation by: Dennis Anjuschin
All Cyberpunk 2077 Guides & Articles