You'll need a lot of wargear to survive in Night City. We'll tell you which Epic and Legendary Weapons you'll find at which Weapon Dealers, what Weapon Mods exist, and how to get hold of the Unique, Iconic Weapons.
In this Cyberpunk 2077 Guide we show you:
where to find all Weapon Vendors
what Weapon Types exist
Which Unique Weapons exist and where to find them
Weapon Types and suitable Attributes & Skills
You can carry as many weapons as your carrying capacity allows, but you can only equip three of them. Additionally, you can equip one Cyberware Weapon in your Cyberware Arm Slot: Gorilla Arms, Mantis Blades, Monowire, and the Projectile Launch System. Our detailed Cyberpunk 2077 Cyberware Guide tells you where you can either buy or find them for free.
Depending on which type of weapon you like best, it makes sense to specialize in specific skills. The following Attributes and Perk Trees are suitable for specific Weapon Types.
| Key Abbreviations | |
| --- | --- |
| CO | Cool |
| TA | Technical Ability |
Weapon Type and Perk Tree
Learn all about Skills and Perks in our big Cyberpunk 2077 Skill Guide.
The various firearms in Cyberpunk 2077 can furthemore be subdivided into different weapon classes, which allow for special playing styles, and which come with distinct features.
Weapon Classes in Cyberpunk 2077
Power Weapons
Power Weapons are the standard firearms in Cyberpunk 2077, but they still come with a unique feature: Fired projectiles can bounce off solid surfaces and cause damage as ricochets (basic probability of five percent). This effect can be increased with Cyberware for the hands: The Ballistic Coprocessor Implant increases the chance for ricochets, and bullets bounce up to two additional times (depending on the rarity level of the implant).
Now, this is still quite arbitrary in normal use. If you upgrade your Kiroshi Optic Implant with the "Trajectory Generator" Cyberware Mod, a preview of the possible trajectory of ricochets will be revealed when aiming with a suitable power weapon. This can be used to steer shots over walls at enemies hiding in cover, for example.
Smart Weapons
Smart Weapons are an excellent choice for operating effectively from cover or for hitting enemies hidden behind cover. If you have Smart Link Cyberware in your hands, it will activate the auto-targeting feature of the Smart Projectiles. Point a Smart Weapon at an enemy, and the targeted body part (sometimes more than one) will be marked with a square. Retreat back into cover or into rooms, and then shoot out – the bullets will find their way to the target by themselves. However, the marker will not stay on forever and depending on the situation, it has to be renewed by having a clear sight on the target (or on parts of the target).
You can also receive the Smart Link feature from Fixer Wakako as a reward for the side mission "The Gig". However, there are Epic and Legendary variants that offer a better hit probability as well as better Crit Hit Chances.
The disadvantages of smart weapons are their relatively lengthy reload times (which can be resolved by using the "Lock and Load" perk in the Engineering Perk Tree, TA 9) and their lower damage output.
Tech Weapons
Tech weapons have a long reload time, but they offer a special feature: Holding down the fire button while using a Tech Weapon, charges up the shot and releases a powerful projectile that can penetrate cover and even walls. For example, if you've spotted enemies in adjacent rooms using the quickhack "Ping" (see our Hacking Guide) and you can see their shapes through the wall, you can shoot at them with a Tech Weapon. However, projectiles piercing through the wall will inflict less damage.
You can specialize in Tech Weapon usage with the right perks from the Engineering Perk Tree (Technical Ability). This extends to the point where Tech Weapons completely ignore any armor (Perk "Superconductor", TA 20).
Weapon Crafting & Ammunition
The Weapon Dealers offer Crafting Specs for Custom Weapons. You can find more blueprints while exploring Night City or by completing missions. The table further below shows you where to find the best Weapon Crafting Specs.
If you're seriously into crafting weapons, you'll have to invest quite a bit into the Crafting Tree (Technical Ability). However, so far we haven't had the impression that this is overly rewarding – it is something for enthusiasts mostly. Unusual or Rare Weapons with very good damage values are constantly dropped as loot, which often outperform even Legendary Weapons by a wide margin.
Available weapons can be improved via "Upgrade" in the "Item Crafting Menu", if you have enough of the right item components. You also need them to craft new weapons. You can get item components by disassembling items or buying them from the vendor.
However, the benefit of an upgrade, i.e. the increase of a weapon's damage output, is often not proportional to the component cost. In other words, if a new, uncommon weapon does more damage than a multiple upgraded legendary weapon with epic and legendary item components, the upgrade simply isn't worth it.
Crafting mods, on the other hand, makes perfect sense, since the rarity is randomly determined during each crafting process. If you're aiming for high values in the "Technical Ability" Attribute anyway, the "Waste Not Want Not" Perk (TA 16) comes in handy: Mods are no longer lost when you disassemble an item.
Weapon Dealers & Locations in Cyberpunk 2077
There are 20 Weapon Dealers in Night City and the surrounding areas that sell Melee Weapons, Firearms, Grenades, Mods and item components. Five of them are fully specialized in Melee Weapons and the corresponding Mods.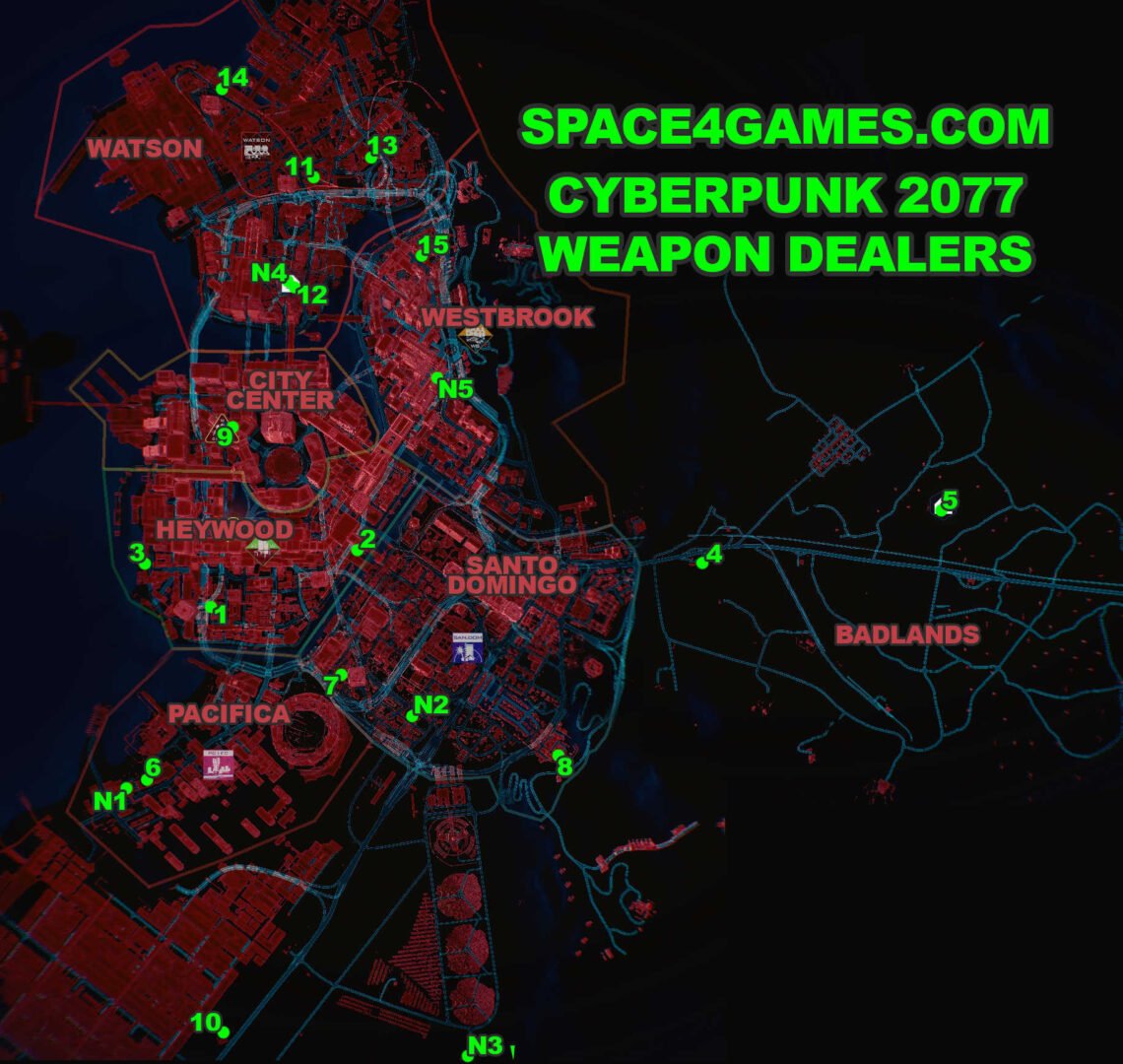 The table below lists all Weapon Dealers.
Weapon Dealers
| No. | Area / Position | Name | Fast Travel Dataterm | Hint |
| --- | --- | --- | --- | --- |
| 1 | Heywood, The Glen | – | Ventura & Skyline | |
| 2 | Heywood, Vista Del Rey | – | College Street | |
| 3 | Heywood, Wellsprings | – | Cannery Plaza | |
| 4 | Northern Badlands, Red Peaks | – | Sunset Motel | |
| 5 | Northern Badlands, Rocky Ridge | – | Mobile Camp / Nomad Camp | The camp's location changes toward the end of the main story, but it still remains in Rocky Ridge. |
| 6 | Pacifica, West Wind Estate | – | West Wind Apartments | |
| 7 | Santo Domingo, Arroyo | – | Megabuilding H4 | |
| 8 | Santo Domingo, Rancho Coronado | – | Rancho Coronado East | |
| 9 | City Center, Corpo Plaza | – | Halsey & MLK | |
| 10 | Southern Badlands, Biotechnica Flats | – | Fuel Station | Available after the main mission "Life During Wartime". |
| 11 | Watson, Kabuki | Straight Shooters | Kabuki Market | |
| 12 | Watson, Little China | 2nd Amendment, Robert Wilson | Megabuilding H10: Atrium | |
| 13 | Watson, Northside | Maelstrom Heat | All-Foods Plant | Only available if the main mission "The Pickup" was solved peacefully. |
| 14 | Watson, Northside | Iron & Lead | Docks | |
| 15 | Westbrook, Japantown | – | Skyline & Salinas | |
Melee Weapon Dealers
| No. | Area / Position | Name | Fast Travel Dataterm | Hint |
| --- | --- | --- | --- | --- |
| N1 | Pacifica, West Wind Estate | – | West Wind Apartments | |
| N2 | Santo Domingo, Rancho Coronado | – | Rancho Coronado South | Unlocked only after completing the mission "For my Son" and the side mission "Beat on the Brat: Rancho Coronado". |
| N3 | Southern Badlands, Jackson Plains | – | Car Workshop | In a caravan in the middle of the desert. |
| N4 | Watson, Little China | Coach Fred | Megabuilding H10: Atrium | |
| N5 | Westbrook, Japantown | Spector Cheng | Crescent & Broad | |
Weapon Mods
Using the right modifications, you can further upgrade weapons that have mod slots. Mods can be added to weapons in the inventory.
You can buy Weapon Mods at all Weapon Dealers.
Overview of all Weapon Mods
Overview: All Cyberpunk 2077 Weapons & Crafting Specs
In the following charts you will find all weapons in their basic versions and, if available, the locations of legendary versions. Please note that the rarity is random when found in crates or corpses in the Open World. In addition, and if available, we link to the respective iconic variant with description, location and requirements.
Epic and legendary weapons available for purchase have been tagged with the Weapon Dealer's number from the table above – you just have to go there, and be richer than rich, since the legendary purchasable weapons cost an unfathomable amount of Eddies.
Machine Gun (light)
Submachine Guns
Melee Weapons (Blades)
Melee Weapons (Blunt)
Pistols
Revolvers
Sniper- / Precision Rifles
Shotguns
Assault Rifles
Weapon Crafting Specs: Epic, Legendary, Iconic
To craft epic items, you need the "Grease Monkey" perk from the Crafting Tree (Technical Ability). Legendary items require the "Edgerunner Artisan" perk.
Unique, Iconic Weapons, their Locations & Requirements
Unique Weapons are often rewarded in Cyberpunk 2077 for completing missions or fighting certain enemies. You can only get most of them one time, depending on what you do or what decisions you make. The following list contains all the Iconic Weapons we currently know about.
Hint: We have highlighted the weapons for which we have been able to verify the data and bonuses up to now.
Attention: The descriptions may contain spoilers.
Amnesty
Revolver
Apparition
Pistol
Archangel
Ba Xing Chong
Shotgun – Crafting Spec
Breakthrough
Sniper Rifle – Crafting Spec
Buzzsaw
Submachine Gun
Chaos
Pistol
Cocktail Stick
Katana
Comrade's Hammer
Revolver – Crafting Spec
Cottonmouth
Electric Baton Gamma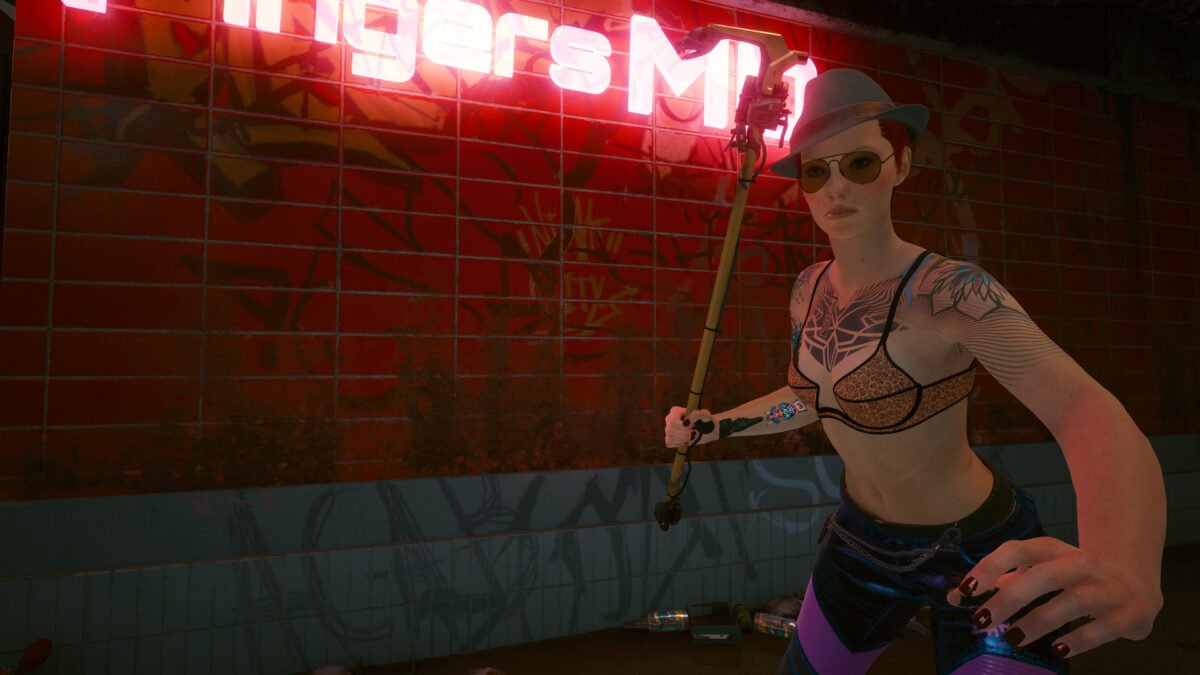 Crash
Revolver
Divided We Stand
Assault Rifle
Doom Doom
Revolver
Dying Night
Pistol
Fenrir
Submachine Gun
Genjiroh
Pistol
Jinchu-Maru
Katana
Kongou
Pistol
La Chingona Dorada
Pistol
Lizzie
Pistol
Malorian Arms 3516
Revolver
Moron Labe
Assault Rifle
Mox
Shotgun
O'Five
Sniper Rifle
Overwatch
Ozob's Nose
Frag Grenade
Plan B
Pistol
Prejudice
Assault Rifle
Pride
Problem Solver
Submachine Gun
Prototype Shingen: Mark V
Submachine Gun
Psalm 11:6
Assault Rifle
Satori
Katana
Second Opinion
Pistol
Sir John Phallustiff
Electric Baton Gamma
Scalpel
Katana
Skippy
Pistol
Sovereign
Shotgun
Stinger
Knife
Spade of Pedells
Hammer
The Headsman
Shotgun
Tinker Bell
Electric Baton Gamma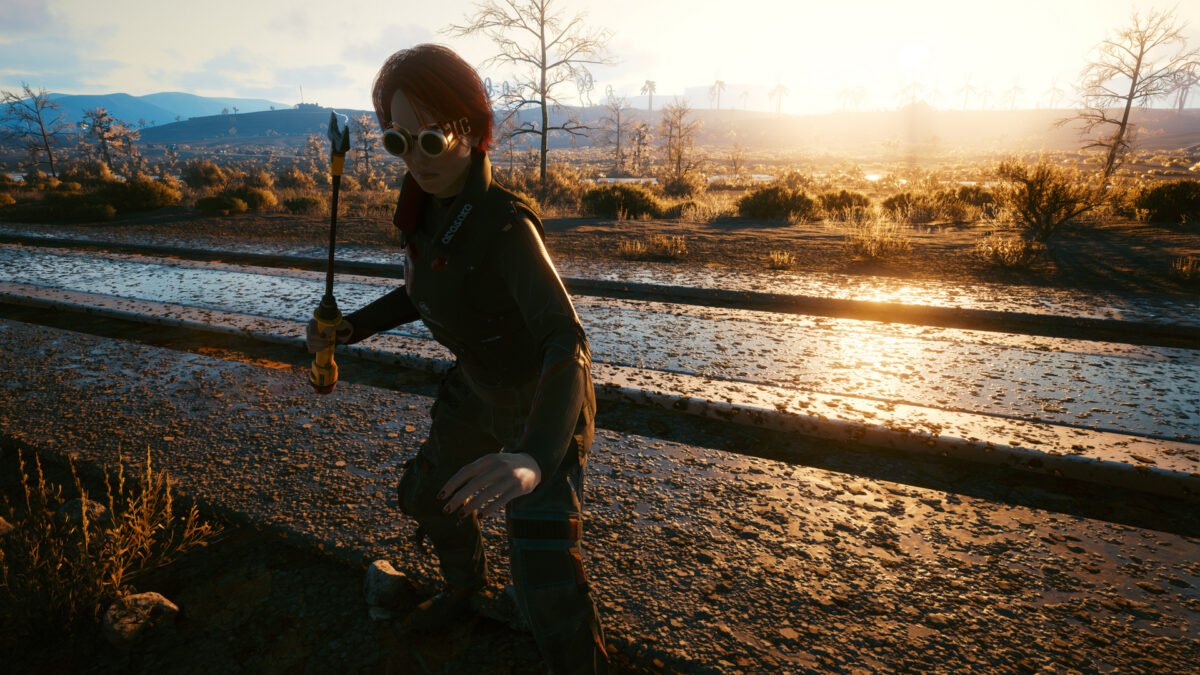 Tsumetogi
Katana
Gold-Plated Baseball Bat
Baseball Bat
Widow Maker
Precision Rifle
Yinglong
Submachine Gun
Translation by: Dennis Anjuschin
All Cyberpunk 2077 Guides & Articles