In our Review/ Guide to GameGlass for Star Citizen we tell you what the app can do, how much it costs and how to set it up.
In this Review/ Guide you will read
What GameGlass is
How it works with Star Citizen
What GameGlass costs
How to set it up for the first time
For complex simulations, there are more and more companies that create their own apps and even hardware. These include extensions for joystick/HOTAS systems (e.g. for Thrustmaster Warthog) and voice controls, as well as equipment for SimPits, i.e. reproductions of complete cockpits including real Multi Function Displays (MFDs).
GameGlass, a provider of control programs that are operated on a tablet or mobile phone, fits in here. The basic idea is simple: You load the application on the SmartDevice and Windows 10, connect both via an account and start the game.
This also works with Star Citizen and ideally the space simulation even recognizes the commands of the app directly. We can start immediately.
What can GameGlass do for Star Citizen and how do you set it up? Is it a smart investment — and do we have to pay anything at all? I clarify this in my GameGlass Test / Guide.
How does GameGlass work?
GameGlass adds individual multi-function displays from Star Citizen to tablets or smartphones, where they can be operated via touch control.
The keyboard mapping of Star Citizen is — to say it gently — complex. Although it does not quite reach the complexity of hardcore simulations like DCS (Digital Combat Simulator), it is also much more extensive than in typical action games. Beginners therefore quickly feel overwhelmed.
This is where GameGlass steps in with an intuitive user interface. Similar to the MFDs in the game, you see the labeled buttons on the tablet or smartphone display and can select them directly. This eliminates the need to memorize keyboard commands, such as "B" for Quantum Drive, followed by holding down "B" for a while to trigger Quantum Jump.
The GameGlass interface instead shows two buttons in the center of the screen:
Initiate Spool
Engage Quantum
This way the Quantum journey starts simply and comfortably. The other menus work similarly. However, the corresponding preconditions must be given in each case. A Quantum Jump can only be started once a destination has been selected and the drive has been charged.
Each touch of a screen key is confirmed via audio feedback. The implementation is fast and direct, significant latencies or even double inputs couldn't be detected in our test. But there is room for improvement: Unfortunately, the button isn't highlighted in toggle switches (i.e. toggle switches like light on/off) in a way that the current status would be visible.
According to GameGlass this is due to limitations caused by the lack of access to a Star Citizen API. Therefore the program is currently not able to read out a status like it is possible in the version for Elite: Dangerous.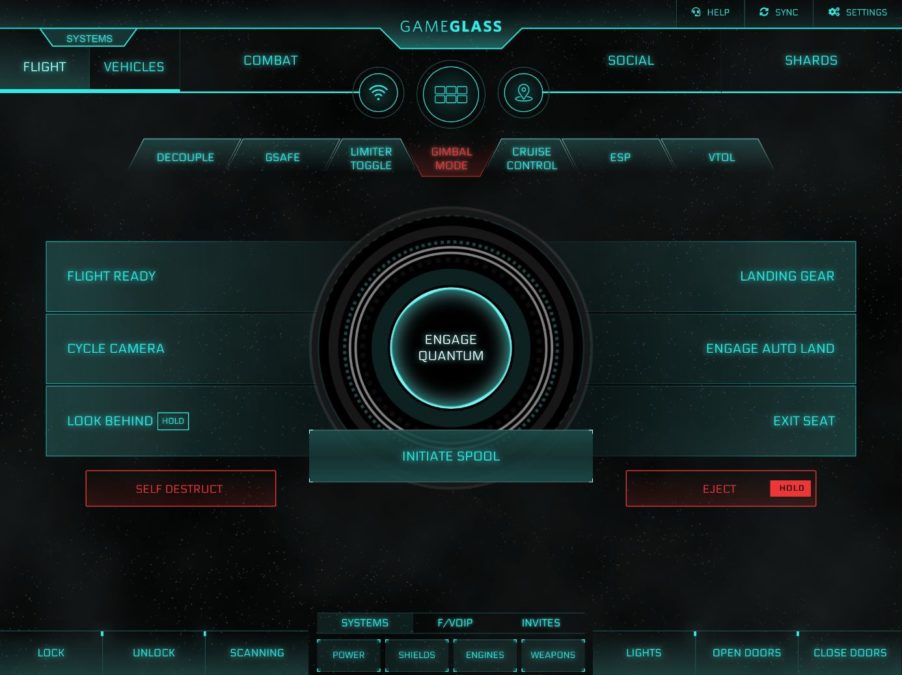 Another flaw I noticed: The "Look Back" button, which is designed as a "Hold" button, doesn't seem to do anything. However, this may be due to the fact that GameGlass requires a certain default configuration (Star Citizen Keybind setup on GameGlass), which is different from our own HOTAS configuration.
Not every player wants to download a preconfigured XML file to install the default configuration of GameGlass. This could be handled in a more flexible way.
What Star Citizen features does GameGlass support?
In Star Citizen, GameGlass supports flight systems, combat systems of spaceships and vehicles, functions for ground vehicles, emotes and camera settings as well as special functions related to professions, for example mining.
GameGlass is technically located between the Star Citizen client on the computer and the input devices used. It simulates the input of keyboard commands. Thus the app is limited to those functions that can be entered via the keyboard or controller or a flight stick.
The menus of GameGlass Basic Star Citizen are organized in different sections.
Flight
Includes the most important commands in flight mode such as systems on and off, quantum drive, landing gear, opening and closing doors, lights and scanning.
Vehicles
Provides similar control over ground vehicle and space bike systems, such as the Nox or Dragonfly.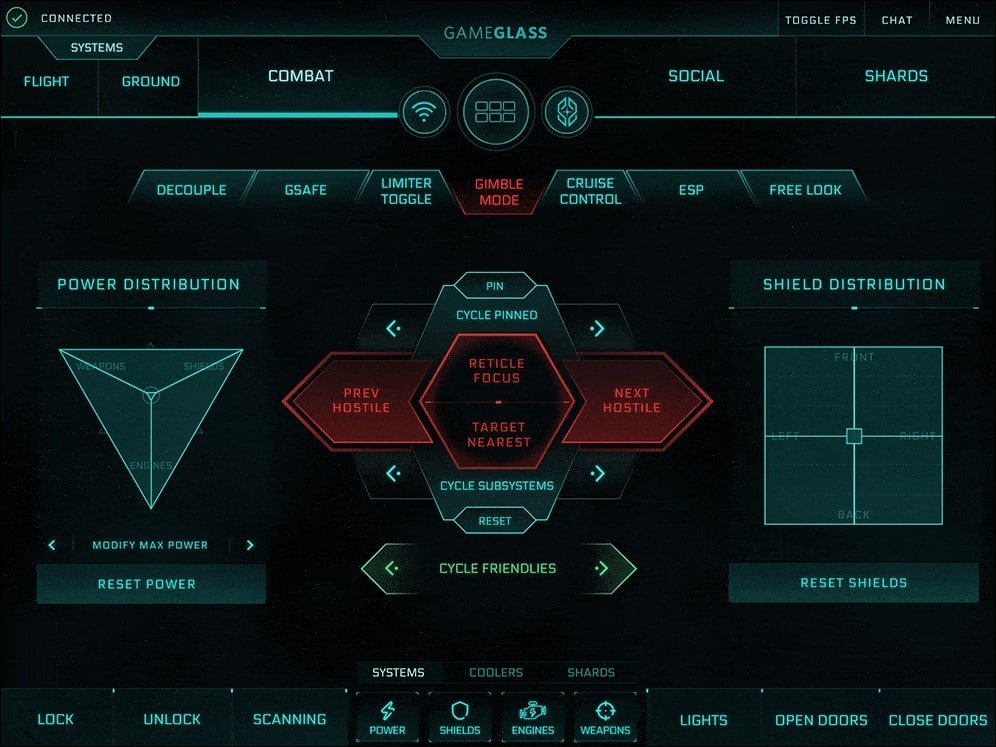 Combat
Provides a screen showing all battle-related systems of ships and vehicles. It can be used to manage shields and energy, select and switch targets.
Social
This includes settings for emotes and the camera. Screenshots can be made much more comfortable than with F4 + Page up/down and cursor keys.
Shards
This tab is intended for the upcoming modular expansion systems in conjunction with new professions in Star Citizen. The first entry at this point is Mining (read more about it in our ultimate Mining Guide for Star Citizen).
The menus are arranged quite reasonably, only a few buttons are placed a little too close together. The Face-Over-IP/Voice-Over-IP button is quite small and close to the Engine button, which can quickly lead to unintended shutdown of the drives. Not a good idea when I'm racing through an asteroid field at 1,235 m/s and actually just want to make a FOIP call.
After all, critical buttons for Eject, Self Destruct and Power are arranged far away from other frequently used functions, stand out from the rest in red color and must be held to trigger the respective function. Personally, I would have liked these buttons to be even smaller, so that I would have to hit them very accurately to blow up my ship. It's for good reason that in science fiction movies and series, the self-destruction mechanisms are hidden behind a series of mechanical security measures or passwords. With GameGlass the self-induced death is a lot easier.
The vehicle page is quite thin in terms of functionality. I may honk the horn a lot, but otherwise only the most important standard commands are found. This is not due to the inability of the GameGlass creators: Star Citizen simply does not offer many options for ground vehicles at the moment.
Ingame-Menus cannot be replaced completely
As comfortable as the app is, there are some things we have to keep doing in the game itself. For example, it is not possible to switch weapon groups via GameGlass. If you want to switch the front weapon of an Avenger to weapon group zero and the wing weapons to weapon group one, you still have to do this at the MFDs in the cockpit of the ship.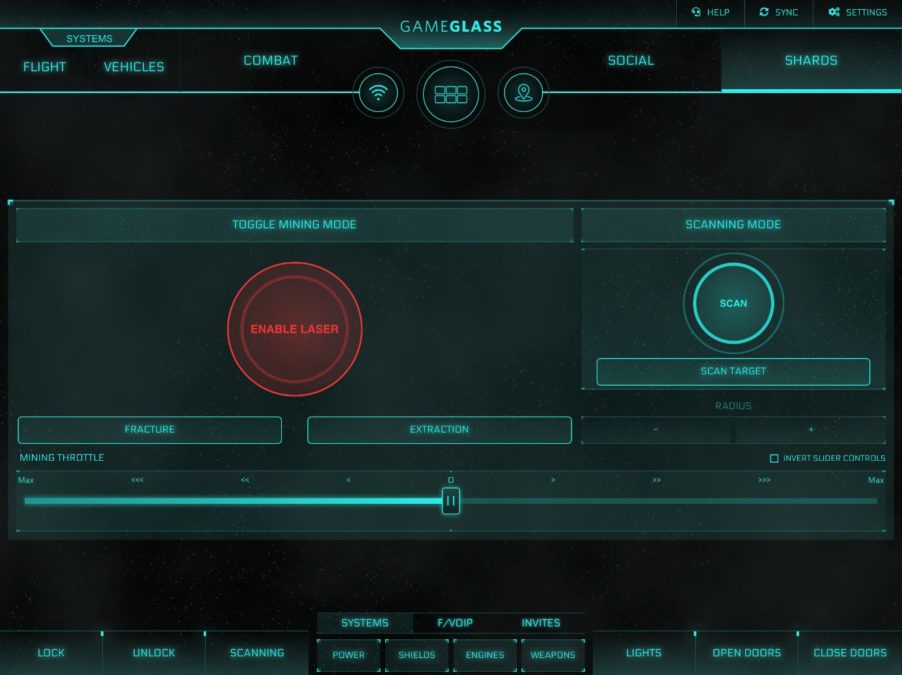 Also, no interactions in the game world can be replaced, so the "Y" and "F" keys are still responsible for freelook and interaction by default. These examples show the limitations that GameGlass currently has. As long as Star Citizen does not have mod support and releases an API that allows direct access to the controls, panels like GameGlass will hardly be able to offer in-game displays completely externally.
It is also not possible to control vehicles directly. Whoever hopes for touch screen control of a Star Trek: Enterprise might be partially disappointed. The only exception so far is the Mining-Shard, where the dynamic energy control can be done via the touchscreen of the tablet and thus via GameGlass.
How much does GameGlass cost?
GameGlass Basic is free of charge. Additional so-called shards, for example for Mining in Star Citizen, are priced at $4.99. There is also a subscription offer.
GameGlass is free in the basic version. You can do a lot with it. The business model of GameGlass does not include advertising so far, the usage is not restricted except for the fact that some shards are not available.
I can buy shards directly: The mining module costs $4.99. An early version of the Star Citizen database, which contains information about ships and so on, comes at the same price.
Those who buy shards are also allowed to link several devices to the host service and thus integrate several tablets or smartphones with different menus into their monitor setup. In the Basic version only one output device is supported.
Finally, GameGlass offers a subscription service with GlassPass for $3.59 per month, with more favorable discounts for annual subscriptions. The subscription service includes all shards for all games (including Elite Dangerous). Screenshots created via GameGlass no longer have a watermark.
In addition, the individual GameGlass surfaces can still be visually adjusted, e.g. with green, blue or red background color, matching the HUD and MFDs of the respective ship.
Review Conclusion for GameGlass for Star Citizen: More than just a gimmick
GameGlass is, if I own a smartphone or tablet, a helpful app. Instead of having to learn keyboard commands or manually assign them to my HOTAS, the typical functions can be selected with a tap of a finger via a visually appealing menu. The audio feedback supports the process.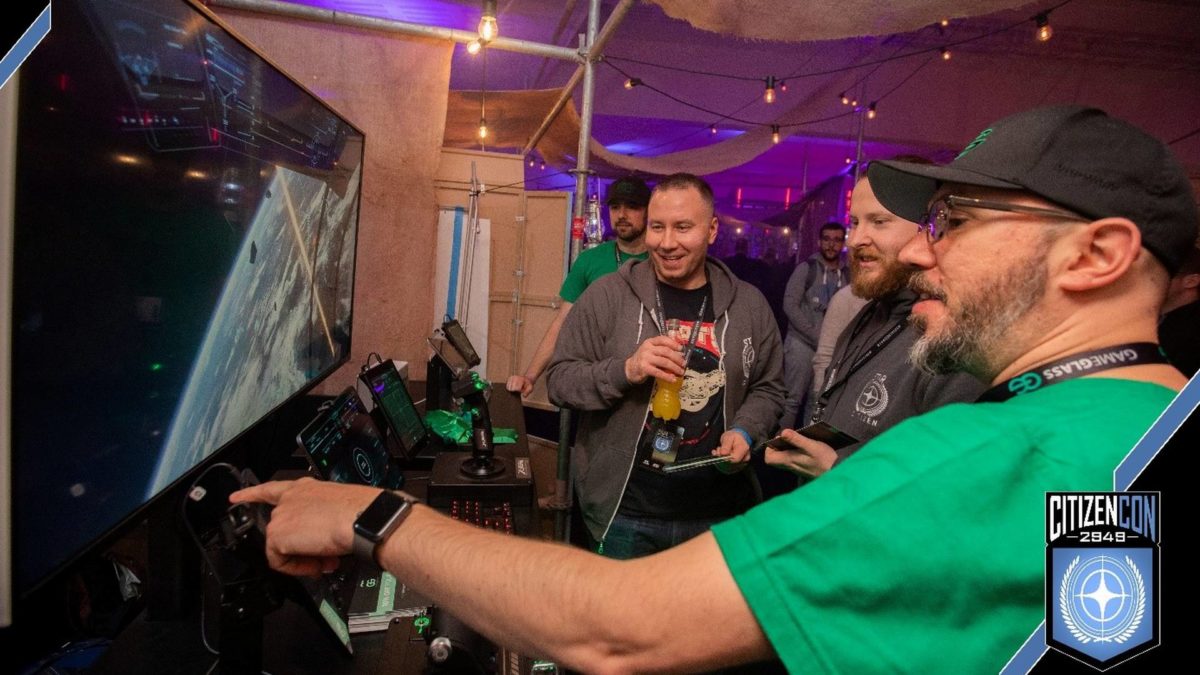 I have been using GameGlass in the free basic version so far, but I find the haptics very pleasant and the functionality self-explanatory. Registration and verification are done quickly, the two programs (host software & app) are not very large. From registration to operation in Star Citizen, the startup took less than five minutes.
Very cool: Friends or family members can join in and control functions in the game via GameGlass. The long promised and not yet implemented multi-crew feature by Cloud Imperium Games (CIG) for Star Citizen is available for free and in real life. That' s really fun!
Since I expect that upcoming game systems in Star Citizen, such as Salvaging, will also have complex controls, I think the Shard system is a fair deal. The Miner gets the special expansion for little money, but if you're not interested in cracking rocks, you don't have to pay for it.
GameGlass is suitable for you if you…
want to operate your ship intuitively using a graphical user interface on a tablet,
would like to have friends or family as real crew members,
have only a limited HOTAS system or a joystick with few buttons and switches, and
want to build yourself a sim-pit.
GameGlass is rather less useful for you if you…
don't want to have any additional programs,
don't have a tablet or a reasonably large smartphone,
additional investments for Shards are too much for you or
if you don't have space or mounts for additional screens.
You can download GameGlass here:
Installation Guide
Use the following steps to set up your GameGlass quickly and safely.
Download the Host Software for Windows 10.
Search and install the application in the Apple Store (iOS), Google App Store (Android) or from Miscellaneous.
Start host software (Windows) and log in with your account.
Start app (Device) and log in with your account.
Both systems normally connect automatically, the integration into Star Citizen also happens automatically.
If you have changed your keyboard mappings, you can download an XML that supports the standard mappings.
Author: Thomas Müller